The Raiders will become the first team in five years to give Colin Kaepernick a workout. Out of the NFL since the 2016 season, the former 49ers quarterback is auditioning for the Raiders on Wednesday, Adam Schefter of ESPN.com reports.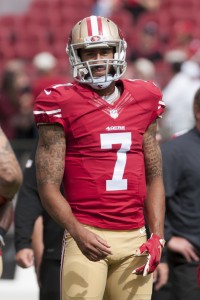 Kaepernick, now 34, returned to the spotlight earlier this year by continuing his workouts and making comments about still seeking an NFL return. Kaepernick's trainer said in March he had spoken with multiple teams, and Mark Davis said back in 2020 he had given his blessing for the Raiders to sign the polarizing quarterback at any point since his long free agency stay began in 2017.
GM Dave Ziegler will join Josh McDaniels and Co. for the workout, Albert Breer of SI.com tweets. New Raiders offensive coordinator Mick Lombardi was on the 49ers' staff, as an offensive quality control coach, during Kaepernick's final San Francisco season. Kaepernick also returns to Nevada, where he starred in college prior to being a 2011 second-round pick.
The Raiders began their OTA sessions Monday and have a day off today; the team is scheduled to finish off its first week of OTAs Thursday. It is not out of the question their quarterback room could have a high-profile addition by that point, though it is far from certain the Raiders will move forward here.
Kaepernick merely receiving this opportunity is surprising, considering how long it has been since his last workout for a team (with the Seahawks, in May 2017) and how long it has been since the NFL-sanctioned/Kaepernick-adjusted Georgia workout (November 2019) commenced. The six-year 49er did, however, throw at Michigan's spring game — one that featured NFL staffers present — after receiving an invite from former coach Jim Harbaugh.
The Raiders have an unquestioned starter in Derek Carr, whose recent bounce-back effort enticed the new Las Vegas regime to extend him earlier this offseason, and added ex-Patriot Jarrett Stidham and ex-49er Nick Mullens behind him. Kaepernick's profile and accomplishments obviously dwarf both of Carr's current backups, but the former Super Bowl XLVII starter has not thrown a regular-season pass since New Year's Day 2017.
Even if the quarterback's NFL exile was only about ability, he would still face long odds at re-establishing himself. Teams have steered clear of the talented passer/runner since his decision to kneel during the playing of the national anthem, protesting racial injustice and police brutality, caused a firestorm for the NFL. The fallout from that led to Kaepernick and former 49ers teammate Eric Reid suing the league for collusion and receiving a settlement in 2019.
Reid received another opportunity, with the Panthers signing him in 2018 and giving him an extension months later. Always the more divisive figure as a well-known quarterback and the leader of the racially geared movement, Kaepernick never was granted such a chance. Given this and the time that has elapsed, Kaepernick returning to an NFL sideline would be one of the most astonishing comebacks in sports history.
At his best under Harbaugh, Kaepernick guided the 49ers to back-to-back NFC championship games and nearly led a comeback win in Super Bowl XLVII. Post-Harbaugh, the 49ers steadily deteriorated, leading to multiple coaching changes. Kaepernick finished 29th in QBR in 2015 and 23rd in 2016 and opted out of his 49ers contract before the Kyle Shanahan regime was prepared to release him. Teams in need of a backup or an emergency starter passed on Kaepernick in the years that followed, and he became mentioned less and less in connection with various in-season QB openings.
The Nevada alum's profile has obviously soared in the years since, and seeing if the Raiders — set to enter next season with the most optimism surrounding their contender status in many years — sign Kaepernick instantly becomes one of this offseason's top storylines.