The Raiders are adding another veteran to their inside linebacker mix. They agreed to terms with Kenny Young on Monday, bolstering a position group that features mostly outside additions.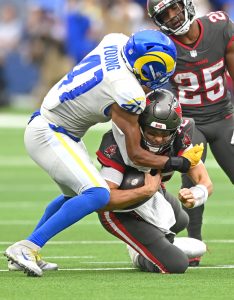 Young joins a cast including 2021 trade acquisition Denzel Perryman and 2022 free agent signings Jayon Brown and Micah Kiser. Young's travels feature an interesting overlap with Kiser's, with both having been with the Rams and Broncos in 2021. Las Vegas also has 2021 third-round pick Divine Deablo at linebacker.
Seeing injuries affect them at linebacker early in the season, the Broncos acquired Young from the Rams via an October trade. After starting seven games at inside linebacker in Los Angeles last season, Young became an instant starter in Denver and ended up a first-stringer in six games with his new team. The newest Raider linebacker add is coming off his best season, one in which he made 75 tackles (six for loss) and tallied two sacks.
A UCLA product, Young broke into the NFL as a Ravens fourth-round pick in 2018. He was involved in a midseason trade two years before his L.A.-to-Denver venture, being part of the Ravens' Marcus Peters swap with the Rams. Young, 27, will now have a chance with a fourth team and will have more time to learn a defense compared to his two previous relocations.