The Raiders' selection of RT Alex Leatherwood with the No. 17 overall pick of the 2021 draft was one of the most-scrutinized choices of last year's first round. The early returns on Vegas' investment appeared to prove the naysayers correct, as the Raiders were forced to shift Leatherwood from right tackle to right guard during his rookie season due in large part to his struggles on the edge.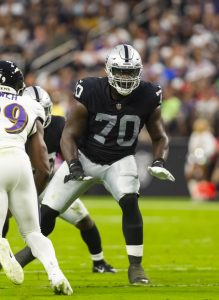 Still, the club's former regime was reportedly prepared to move the Alabama product back to his original position, and the new Josh McDaniels-led staff is at least willing to entertain the notion. As Tashan Reed of The Athletic writes, the Raiders have been moving Leatherwood around during OTAs, and that includes giving him time at right tackle.
"Each one of the guys up front, we've got some guys [at] center and guard, we've got some guys playing on the right side and the left side, we've got some guys playing tackle and guard," McDaniels said. "[Playing tackle] was a little bit of a focus of that today for [Leatherwood], but ultimately, we're going to try to figure out who the best five are that can give us the best chance of success every play. He's certainly working his butt off right now to try to give us the right stuff wherever we put him. … [Leatherwood] has done a good job. He false-started once today, but that's going to happen."
The only major addition that the Raiders made to their O-line this offseason is Dylan Parham, whom the club selected in the third round of last month's draft. And in keeping with McDaniels' desire to get his blockers some burn at multiple positions, Parham has been received reps at center even though he is listed as a guard, as Reed reports.
Andre James spent the entirety of the 2021 campaign as the Raiders' starting pivot following last year's Rodney Hudson trade, and the former UDFA held his own. It would seem that he and LT Kolton Miller are the only two O-linemen to have a firm grip on their starting jobs, so Parham is likely getting some cross-training at center merely to broaden his skills and to see if he might be an option in the event of a James injury.
With left guard, right guard, and right tackle jobs all there for the taking, the result of the competition this summer between the likes of Parham, Leatherwood, Denzelle Good, Jermaine Eluemunor, John Simpson, Alex Bars, and Brandon Parker could prove to be instrumental to the Raiders' success in 2022, even if most of the names on that list don't elicit much enthusiasm from fans of the Silver-and-Black.