In May, the Raiders placed Nick O'Leary on the reserve list, officially ruling him out for the 2020 season. Now we know why – the tight end had surgery to correct a serious blockage on the right side of his heart (via Tom D'Angelo of the Palm Beach Post).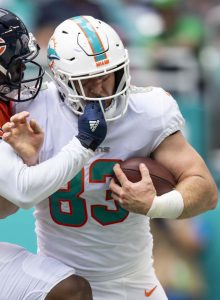 [RELATED: Will Raiders' Ruggs Be This Year's Top Rookie WR?]
Fortunately, there was no residual damage to O'Leary's heart. The 27-year-old is expected to make a full recovery and, when he does, he hopes to resume his football career.
"I feel good," the 6'3″, 252-pound athlete said. "I feel better than I did before. I've got to be on blood thinners for six months to a year. That's really the only reason now why I can't play football. If I (got cut), they said that would be the biggest problem, wouldn't be able to stop the bleeding."
O'Leary, 28 in August, split last year between the Jaguars and Dolphins. After entering the league as a fifth-round pick of the Bills in 2015, he enjoyed a five-year career as a reliable role player and a pass-blocker. For his career, O'Leary has hauled in 53 catches for 668 yards and four touchdowns.
Photo courtesy of USA Today Sports Images.