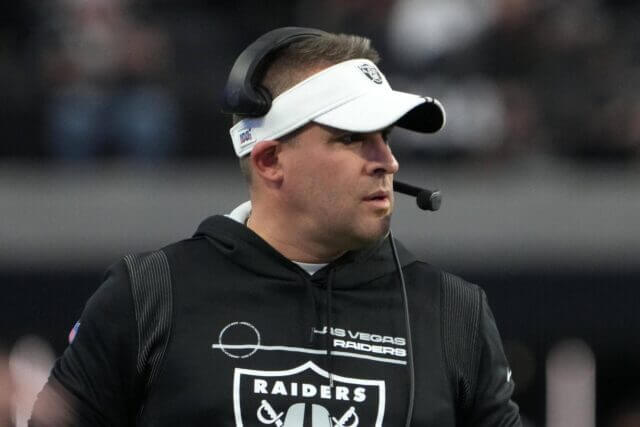 The Las Vegas Raiders joined the quarterback carousel this offseason by parting ways with longtime starter Derek Carr and signing veteran Jimmy Garoppolo to a multi-year contract. Raiders head coach Josh McDaniels and general manager Dave Ziegler have shown confidence in Garoppolo to improve the team's recent fortune.
But McDaniels is also aware that Garoppolo may not be a long-term solution at the quarterback position. He is already 31 years old and has suffered multiple serious injuries over the past few years. But Las Vegas may be in a position to add a quarterback in the 2023 NFL Draft.
The Raiders have the No. 7 overall pick as well as three more picks between the second and third rounds. Adding a potential impact quarterback would not be out of the question if the team wants a long-term option behind Garoppolo on the depth chart.
McDaniels said that the team is unsure what they'll do when the draft rolls around, but that a quarterback would be in consideration, according to Eric Edholm of NFL.com:
"So we only have one quarterback under contract, plus Chase Garbers, who's the rookie free agent last year," McDaniels said. "So there (are) only two of them total.

"I'd say there's a chance we're going to end up adding to the quarterback room in free agency here, continuing to move forward," McDaniels said, "and then also we're looking at every guy in the draft, too. So we're doing our work. We're doing our due diligence. We'll see how the board falls.

"I think we would take the best player," McDaniels said. "We've kind of said that since we came here. I think we think that's the right way to go. (General manager Dave Ziegler) and I both believe in that: Take the best football player. It always makes your football team better."
Of course, McDaniels is choosing not to commit to anything in either direction, which gives the Raiders leverage in talks with both free agents and with other teams who may want to trade with Las Vegas for the No. 7 overall pick.
With the 2023 NFL Draft less than one month away, the Raiders are getting close to decision time. They have to decide if any of the QBs in the 2023 class are worth taking as high as No. 7, or if there are any late-round options that they could trust as a backup.
Regardless, QB questions are going to continue to swirl around the Raiders even with Garoppolo at the helm.
Mark Davis apologizes to Derek Carr
Raiders owner Mark Davis revealed that he apologized to Carr that he was not able to build a winner around the veteran quarterback during his tenure with the team. He took complete responsibility, saying that the "buck stops here" and that he's not passing blame to anyone else.
The post Raiders News: Josh McDaniels Won't Rule Out Drafting Quarterback appeared first on Raiders Newswire.