Despite going into his age-37 season — which is nearly uncharted territory for running backs — Frank Gore received multiple offers in free agency.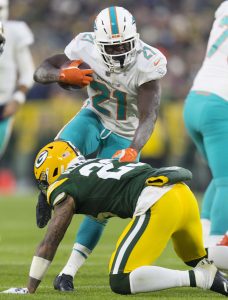 Before deciding on the Jets, Gore indicated the Raiders made him an offer. Gore told NFL.com's Jim Trotter he chose the Jets because of his relationship with Adam Gase. Gore worked with Gase with the 2008 49ers and with the Dolphins 10 years later. Gase tried to bring Gore with him to Jets last year as well.
"I got an opportunity to get back with a good friend and a guy I respect, and I'm happy that he wanted me to be on his team," Gore said of signing with Gase's Jets. "And I'm happy to be around a guy who has done some great things in this league in Le'Veon Bell. That can motivate me. And I can help out the young kid that they just drafted, La'Mical Perine."
While the Jets used a fourth-round pick on Perine, the Raiders did not draft a pure running back. They did add Kentucky gadget player Lynn Bowden Jr., who could be used in the backfield. The Raiders also extended Jalen Richard to serve as Josh Jacobs' backup, re-signed Rod Smith in March and, after Gore did not accept their offer, pivot to ex-Bronco Devontae Booker.
Gore would have provided the Raiders some insurance as a between-the-tackles runner, though Jacobs staying healthy would not leave him much room for work. Gore averaged a career-low 3.6 yards per carry last season but gained 599 rushing yards and obviously brings more experience than any other Raiders' backups. The NFL's No. 3 all-time leading rusher supplies more experience than nearly anyone who has ever played the position.
Photo courtesy of USA Today Sports Images.