Much has been made this offseason about the investments the Raiders have made in adding star power to a roster which made the playoffs in 2021. While the commitments made to the likes of Davante Adams and Chandler Jones have been understandably noteworthy, another important contract could be in order soon.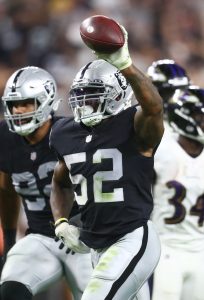 Linebacker Denzel Perryman "would like a new deal," reports NFL Network's Ian Rapoport (video link). The 29-year-old helped his market tremendously with his level of play last season, his first with the Raiders. Perryman shattered his career-high in tackles with 154, a statistic which helped him earn Pro Bowl honors for the first time in his seven-year NFL tenure. The former Charger has one year remaining on his current contract, which will pay him a base salary of $1.12MM.
After the news of his request went public, the former second-rounder said "I knew that was coming. That's why I'm sweating… My agent Ron Butler is handling that. I just want to play football" (Twitter link via ESPN's Paul Gutierrez).
This most recent news doesn't constitute the first of the offseason regarding a re-working of Perryman's financial situation, of course. It was reported last month that he and the Raiders were discussing a new contract, as Vegas' new front office regime led by general manager Dave Ziegler looks to continue retaining incumbent players like receiver Hunter Renfrow.
The team could easily afford a contract which raises his $3MM cap hit for 2022, given their current financial status, though any potential Darren Waller deal could change that. Perryman would constitute a worthwhile investment if he repeats his 2021 performance, something which should be possible if he again plays a starter's workload in the team's new-look LB room, which features a number of offseason additions as well as a new defensive coordinator in Patrick Graham.