The NFL's recent email scandal will end with Jon Gruden, according to a league source who spoke with Barry Wilner of the Associated Press. Gruden, of course, resigned on Monday after his emails made national news.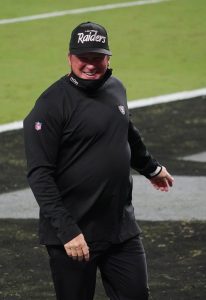 [RELATED: Fallout From Jon Gruden's Resignation]
"The NFL did not identify any problems anywhere near what you saw with Jon Gruden," said the AP's source.
Gruden's missteps were uncovered as a part of the league's investigation into the Washington Football Team. Independent investigations have reportedly scoured through 650,000 emails in total, leaving many to wonder whether Gruden was just the tip of the iceberg.
Meanwhile, ex-Washington exec Bruce Allen would be subject to further investigation if he tries to return to the league, per the source. Right now, it's hard to imagine Allen in a front office position, so that's pretty much a moot point. The emails he received from pal Jeff Pash — the league's top lawyer — were deemed "appropriate" and "in a different category" from Gruden.
The NFL has no current plans to release the full ~650K batch of emails, despite NFLPA chief DeMaurice Smith's repeated requests.
Photo courtesy of USA Today Sports Images.