In the wake of Jon Gruden's resignation as the Raiders' head coach, more items related to his departure continue to trickle out. With respect to Gruden's contract, Mike Florio of Pro Football Talk notes that the ex-HC's 10-year, $100MM accord might have been backloaded, which means he could have left even more money on the table than initially believed (he was in the fourth year of that 10-year pact). Florio says it's likely that Gruden and the team agreed upon some sort of severance package, but a fight over Gruden's considerable unpaid salary could be in the offing if there was no such agreement.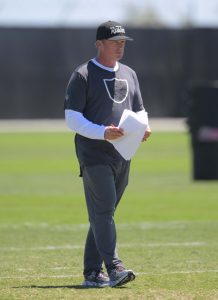 For instance, if Gruden's resignation was not a voluntary one, he could theoretically file a grievance and argue that he was constructively discharged without cause. If his grievance were successful — a dubious proposition, given that it would probably be heard by commissioner Roger Goodell — he would be entitled to all remaining guaranteed money on his contract. Of course, it has previously been reported that not all $100MM was guaranteed, and between that and the optics and likely outcome of a grievance, it would seem that Florio is correct in his assumption that the contractual matter has already been resolved. But because Raiders owner Mark Davis is believed to be perhaps the most cash-poor owner in the game — though the club's move to Las Vegas is expected to be a boon for Davis in that regard — the details of a resolution or lack thereof are worth considering.
Meanwhile, Adam H. Beasley of Pro Football Network confirms (via Twitter) that OC Greg Olson will become the team's offensive play-caller moving forward, and Adam Schefter of ESPN.com tweets that Gruden's son, Deuce Gruden, will remain Las Vegas' assistant strength and conditioning coach. We had already learned that special teams coordinator Rich Bisaccia will take over the head coaching role on an interim basis.
It appears that, shortly before his resignation, Jon Gruden told his team that he had made a number of disturbing statements. One Raiders player, speaking anonymously, said, "when we met [on Monday] we were moving on to the next game-Denver. This news now is just shocking. At the same time, he told us he said a lot. On one hand I knew it was some foul stuff, on the other hand, we know the man we work with every day" (via veteran NFL reporter Josina Anderson on Twitter).
At this point, it's difficult to imagine Gruden obtaining another NFL-related position down the road, but if there are enough people who feel like the anonymous Raider, it may be a possibility.
Photo courtesy of USA Today Sports Images.