Following Jon Gruden's abrupt departure midway through his fourth season back as Raiders HC, the franchise has moved Mike Mayock to the top of its decision-making hierarchy.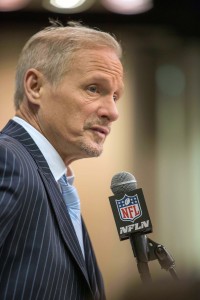 The Gruden-handpicked GM will now have a 51% say in roster decisions, Mark Davis said (via ESPN.com's Paul Gutierrez, on Twitter). Interim HC Rich Bisaccia will slide into Mayock's previous 49% say. While these somewhat arbitrary numbers indicate Bisaccia will be involved to a far greater degree, Mayock is now running things in Las Vegas. In addition to being named Las Vegas' new interim HC, Bisaccia will retain his special teams coordinator responsibilities, per Gutierrez.
[RELATED: Gruden To Resign As Raiders Head Coach]
Gruden brought in Mayock to replace Reggie McKenzie as GM in 2019. Gruden was not previously believed to be on the hot seat — prior to the email scandal, of course — but Mayock was. The longtime analyst-turned-GM was viewed as a more logical fall guy for the Raiders' personnel shortcomings in recent years, but he is now the face of the personnel department post-Gruden.
This arrangement might not last beyond this season, with Mayock tied to Gruden, but the third-year GM will be tasked with steering a franchise in turmoil. When asked about the state of the Raiders after they moved on from their $100MM coach, Davis said, via Gutierrez, to "ask the NFL; they have all the answers." Davis said Monday night he accepted Gruden's resignation but has yet to discuss the move in greater detail.
In the span of a week, the Raiders went from 3-0 to 3-2 and in the position to have an interim coach for their final 12 games. This story figures to produce more answers in the coming days and weeks. Strictly through a Raiders lens, they are in the historically unusual spot of being months away from an unplanned reboot.
Photo courtesy of USA Today Sports Images.