Colin Kaepernick's Raiders workout occurred Wednesday, and although Josh McDaniels did not address how the high-profile free agent performed, some indications have emerged that the one-time Super Bowl starter accounted himself well.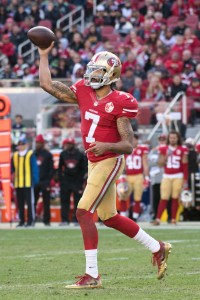 The former 49ers quarterback displayed good arm strength and conditioning, according to ESPN.com's Jeremy Fowler (on Twitter). NFL.com's Ian Rapoport also notes the 34-year-old passer impressed at his Las Vegas audition (video link), adding the door for a potential Kaepernick-Raiders agreement is open. Another source was high on Kaepernick's arm strength and fitness, via USA Today's Josina Anderson, while also pointing out the difference between a Raiders-organized workout and an independent session was noticeable at points (Twitter links).
Two other teams are believed to have shown some interest in Kaepernick this offseason, Pro Football Talk's Mike Florio offers. It will be interesting to see if another workout takes place. Prior to the Raiders' invite, Kaepernick had not been a fixture on the NFL radar in years. Kaepernick met with the Seahawks in 2017 and threw in front of a handful of NFL personnel at a Georgia workout he reorganized at the 11th hour two years later. Otherwise, it has been quiet for the the player who has not played in a game since New Year's Day 2017.
Exiled from the league after his protests of racial injustice during the national anthem created one of the biggest controversies in NFL history, which also led to the league settling with Kaepernick and Eric Reid on a collusion lawsuit, Kaepernick is obviously short on time to make an NFL comeback. Mark Davis has signed off on a deal, if his football staff views Kaepernick as a fit.
The Raiders used Marcus Mariota as Derek Carr's backup over the past two seasons, and the former Titans talent was featured in occasional sub-packages aimed to take advantage of his mobility. (Mariota is now with the Falcons.) As of now, it is not believed the Raiders would have such a plan for Kaepernick. They view him as a potential Carr backup option and not a player who would be used in specialty packages, per the Las Vegas Review-Journal's Vincent Bonsignore.
Although Kaepernick displayed electric running ability as a young player, peaking with one of the NFL's great playoff rushing performances in a 49ers rout of the Packers in the 2012 divisional round, his being away from the game for so long would stand to impact his athleticism. It also might be too early to speculate on a prospective role, given the unique circumstances surrounding the University of Nevada alum.
Currently, Las Vegas rosters Jarrett Stidham and Nick Mullens behind Carr. The Raiders also have rookie UDFA Chase Garbers (Cal) on their offseason roster. Stidham, who has attempted 48 career passes in eight games as a backup, played three seasons in McDaniels' Patriots offense. He did not see any time in 2021. Mullens has far more experience, having made 17 starts in four seasons despite a being a former UDFA. He started a game for the Browns last season, with Baker Mayfield and Case Keenum out due to COVID-19. Carr has been one of the NFL's most durable quarterbacks during his career, missing just three games (counting the Raiders' 2016 wild-card playoff loss) in eight seasons.