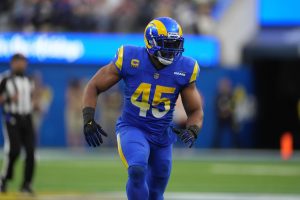 The vast majority of the big-name free agents have already found new NFL homes, but there are still a few good players remaining on the market. The following 10 players should be able to find a new team before long and help said organization win some games in 2023.
Where Will the Best Remaining Free Agents Sign?
1. Bobby Wagner – Bills
Bobby Wagner is still one of the best linebackers in football, and the Buffalo Bills and Seattle Seahawks are reportedly the two frontrunners for his services. Seattle might offer a more familiar environment, but Wagner would be foolish to pass up an opportunity to play with a true Super Bowl contender – especially if they land DeAndre Hopkins.
2. Jadeveon Clowney – Saints
After spending the entire offseason talking about their complete lack of cap space, the Saints somehow find themselves with $14.9 million in available spending money. This team can afford to add one or two big-name free agents, and Jadeveon Clowney is the best fit of the remaining players. After losing several impact players along the defensive line, New Orleans needs somebody that can get after the quarterback.
3. Odell Beckham – Chiefs
The Chiefs are in the market for an upgrade at wide receiver, and Odell Beckham is the best free agent remaining on the market. If Beckham can recapture his 2021 form, he should be the second-best weapon on this team and make an already-lethal Kansas City offense all the more dangerous.
4. Rock Ya-Sin – Patriots
The Patriots had one of the best defenses in football last year, but their main weakness was at cornerback. That problem is still there, as Jalen Mills is moving to safety following the retirement of Devin McCourty. Rock Ya-Sin is a perfect fit for New England's scheme and should complement their young group of cornerbacks.
Ya-Sin's reps in man were very impressive and he should be affordable (4 years, $10-11M avg)

Can get grabby and open his hips early vs speed, but he contested nearly every target for LV. Length popped consistently and had flashes of brilliance in press. Also shined on scrambles pic.twitter.com/81VAvyeqgP

— Taylor Kyles (@tkyles39) March 7, 2023
5. Dalton Risner – Bills
Stefon Diggs isn't getting any younger, and the Bills should go all-in before their superstar wide receiver is past his prime. Buffalo has a strong offense, but they have a notable weakness at guard. Signing Dalton Risner would help solidify the interior offensive line and pave rushing lanes for the newly-signed Damien Harris.
6. Marcus Peters – Chargers
The Chargers can hope that JC Jackson bounces back from his atrocious 2022, but they shouldn't bet on it. You can't have too many good cornerbacks in today's NFL, especially when you share a division with Patrick Mahomes and the Kansas City Chiefs. Peters' aggressive style of play meshes well with the Chargers defense, and an extra interception or two could be enough to determine the outcome in a few divisional clashes.
7. Isaiah Wynn – Raiders
Just like almost every other offensive player on the 2022 Patriots, Isaiah Wynn had a season to forget last year. The former first-round pick was terrible by just about every measure, but a lot of that blame can be placed at the feet of Matt Patricia. For no logical reason, Patricia believed Wynn should play right tackle after spending his entire career on the left side. Reuniting with Josh McDaniels and playing left tackle should help restore his career. If he can recapture his pre-2022 form, he's easily the best remaining free agent offensive tackle.
8. Yannick Ngakoue – Ravens
The Ravens have had a rough offseason, but they could improve it by signing Yannick Ngakoue. Baltimore desperately needs somebody capable of getting after the quarterback and a reunion with the former Raven would certainly improve their pass rush.
9. Leonard Floyd – Browns
The Cleveland Browns have one of the better rosters in the league, but they need to improve up front. Myles Garrett is phenomenal, but the team needs to find him some help. Leonard Floyd isn't the player he once was, but he still has some juice in his tank and could provide a reliable presence opposite Garrett.
10. Taylor Rapp – Steelers
With Terrell Edmunds in Philadelphia, the Steelers need a safety, and there just happens to be a great free agent remaining on the market. Even though the Los Angeles Rams had a rough year, Rapp still played well, finishing with the 13th-best PFF grade among 88 eligible players. Combining Rapp and Minkah Fitzpatrick would give Pittsburgh one of the best safety duos in football.
The post Landing Spots For the Best Remaining Free Agents appeared first on Last Word on Pro Football.