The Raiders have been without their top target since Thanksgiving. A leg injury and a positive COVID-19 test kept Darren Waller out of practice over the past five weeks, but the team received some positive news ahead of its likely do-or-die game in Week 18.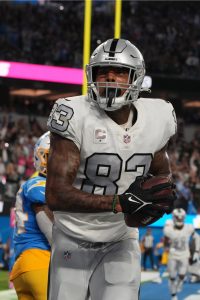 Waller was back at practice Wednesday. The Pro Bowl tight end worked out in a limited capacity, but this nevertheless represents progress. Despite Waller having not played since Week 12, the Raiders did not place him on IR. They opted to play it week-to-week, but this injury has taken some time to heal.
Expected to miss a slightly shorter period of time due to an IT band strain, Waller experienced upper-leg pain that slowed his return. The Raiders have gotten by with Foster Moreau at the tight end spot and have won their past three games to set up what will likely be a win-and-in game against the Chargers. Still, their offense certainly is not the same without Waller. Las Vegas has topped out at 23 points — against Indianapolis in Week 17 — in its five games with its two-time 1,000-yard target sidelined.
His extended absence notwithstanding, Waller remains second among Raiders with 53 catches for 643 yards this season. Hunter Renfrow has made a leap in his third year, topping 1,000 yards for the first time, but Henry Ruggs' departure is still affecting the Las Vegas offense. DeSean Jackson has eclipsed 50 yards in just one game since signing with the team in early November.
Photo courtesy of USA Today Sports Images.