As things stand, the NHL is planning to have games resume at some point over the coming weeks.  Assuming the regular season continues, there will be plenty of things to watch for over the stretch run.  Over the weeks ahead, PHR will examine the top stretch run storylines for each team.  We begin our look at the Pacific Division with Vegas.
The Golden Knights' third NHL season has had some surprises along the way.  Chief among those was Gerard Gallant getting replaced midseason by Peter DeBoer who coached the team that put Vegas out of the playoffs last season, a move that has paid some early dividends as they've gone 15-5-2 under their new bench boss to reach the top of the division.  While they're sitting comfortably in a playoff spot for any potential stretch run, there is still plenty to watch for if games resume.
Reset For Tuch
This has not been a season to remember for Alex Tuch.  The winger was coming off of a breakout sophomore campaign and it looked as if he was going to be a fixture in their top six.  However, things went off the rails before the year even got underway.  An upper-body injury late in training camp cost him more than a month and that setback has affected his entire season.  He has struggled considerably offensively and then a mid-February leg injury put him on the shelf again where he remained when the shutdown was put in place.
If there was anyone on the Golden Knights that could benefit from a reset, it's Tuch.  Now healthy, he'll be able to start fresh if and when a mini training camp is held in advance of games being played and will be at a similar level in terms of conditioning as everyone else.  That presents him with an opportunity to be much more of a difference-maker in the postseason after being basically a supporting cast type of player when he has been in the lineup this year.  If that happens, that will be a nice boost to a Vegas attack that was in the top ten in the NHL before the pandemic.
Goaltending Minutes
At the age of 35, Vegas was understandably hoping to limit Marc-Andre Fleury's minutes this season.  However, Malcolm Subban's struggles made that a challenge and the team was ultimately forced to look for an upgrade for their backup goaltender.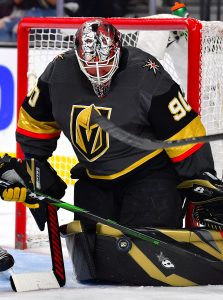 However, they didn't just get a backup when they acquired Robin Lehner from Chicago at the trade deadline for a package involving Subban.  They got someone who is capable of handling a larger workload and he's someone with a lot to play for as he's slated to be one of the more intriguing netminders to hit the unrestricted free agent market this offseason.
If regular season games resume, there could be a few sets of back-to-backs which would have the Golden Knights well positioned to get through the stretch.  But what if they jump to the playoffs right away?  Fleury has been their undisputed starter since joining them in the Expansion Draft but with a capable number one in Lehner behind him, will his leash be shorter this time around?  It's a nice challenge for DeBoer to navigate if it happens although Lehner has been vocal that he doesn't expect games to resume this season.
Scoring Race
While Max Pacioretty and Mark Stone won't be contending for any scoring titles, the pair have been locked in a close battle for the team lead in scoring, one that could very well go down to the wire if games resume.  Stone actually had the narrow advantage before suffering a lower-body injury in late February that caused him to miss the last six games and likely took him out of contention of pursuing a new career high.  In his absence, Pacioretty picked up four points to take a three-point lead, 66 to 63.
Stone will be back to full health if play resumes and a small gap like that can easily be made up if they play close to an 82-game season.  Pacioretty, meanwhile, would be in the midst of his own scoring battle as he sits just one point of his career best of 67, a mark he reached twice with the Canadiens in the past.  If there are any more regular season contests to be played, this will be one of the tighter internal scoring races in the league.
Photo courtesy of USA Today Sports Images.