Free agency is now less than six weeks away and many teams are already looking ahead to when it opens up.  There will be several prominent players set to hit the open market in mid-July while many teams have key restricted free agents to re-sign as well. Next up is a look at the Golden Knights
Key Restricted Free Agents
F Nicolas Roy – After a 2019 trade brought him to Vegas, Roy began showing flashes of skill and higher ability than he had shown in Carolina's organization. Roy played 20 playoff games for the Golden Knights as they made a run to the 2020 Western Conference Final, scoring eight points, and finally established himself as a regular in 2020-21, getting into 50 regular-season games and 19 playoff games. Roy's real breakout, though, came this past year, where he flew by his career highs in goals and points to finish with 15 goals and 39 points on the year. Roy was a consistent presence bringing both skill and physicality to a lineup ravaged by injuries, and his development was a major factor in keeping the Golden Knights' playoff hopes alive until late in the season. Roy played on a $750k cap hit last year and is set to earn a decent raise on that number, although it remains to be seen if he will take a bridge contract or if the Golden Knights will choose to try to lock him up long-term.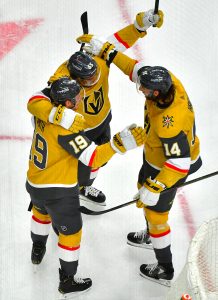 D Nicolas Hague – Hague was the Golden Knights' first-ever second-round pick and has developed nicely since he was drafted 34th overall in 2017. Hague's big six-foot-six frame has always intrigued scouts and has helped him carve out a role in the NHL. Hague made his NHL debut in 2019-20, getting into 38 games and posting a healthy 11 points. Hague was a regular in 2020-21, skating in 52 games and scoring 17 points. While he battled injuries this past season and only featured in 52 out of the team's 82 games, Hague's future in Vegas looks bright. Hague played on a $791k cap hit this past season, and does not have arbitration rights. Given the cap constraints of the cup-or-bust Golden Knights, it seems like a bridge deal makes the most sense for both parties, although after the team signed fellow young blueliner Zach Whitecloud to an extension through 2027-2028, a similar long-term deal for Hague cannot be ruled out.
F Keegan Kolesar – Kolesar has been a great story for the Golden Knights. Kolesar was acquired from the Columbus Blue Jackets for a second-rounder in the 2017 draft, and disappointed in his first season in their system, spending 20 games playing for the Quad City Mallards of the ECHL. But since that point Kolesar has developed his game year after year and grown to be a regular bottom-sixer in Vegas. This past year was Kolesar's second as an NHL regular, and he got into 77 games and posted 24 points. Kolesar was a dependable physical force in former coach Peter DeBoer's lineup, but didn't reach the offensive heights some may have expected. Kolesar is arbitration-eligible so it will be interesting to see which direction the team goes with his extension. The value true value of players like Kolesar can be sometimes difficult to quantify, so the raise Kolesar receives from his $725k cap hit will say a lot about his standing in Vegas' organization.
Other RFA's: F Brett Howden, F Jack Dugan, F Benjamin Jones, F Jake Leschyshyn, F Jonas Rondbjerg, D Daniil Miromanov, D Brayden Pachal, G Dylan Ferguson
Key Unrestricted Free Agents
F Reilly Smith – One of the Golden Knights' original "misfits," Smith has been a top-six staple in Vegas since the team first took the ice. Smith was originally acquired from the Florida Panthers at the team's expansion draft and has 230 points in 321 games in Vegas. Smith's best play has come in the playoffs, where he has 52 points in 66 games, including a phenomenal 22-point performance in the team's 2018 run to the Stanley Cup Final. Smith had a difficult 2020-21, scoring only 25 points in 53 games, but he bounced back this year to post 38 points in his injury-limited 56-game season. That's a 55-point pace, which is what can normally be expected from Smith, who posted between 53 and 60 points in his first three seasons in Vegas. Smith's inability to stay healthy last year, when combined with his age (31), could be a potential threat to his free agent market. But ultimately his play on the ice will be the most important determining factor deciding what sort of contract he receives. Given his overall profile, a similar contract to the one Pittsburgh Penguins forward Bryan Rust signed could be a reasonable landing spot for both camps. The only question then, is whether or not the Golden Knights are in a position to afford Smith on that sort of deal.
F Mattias Janmark – Janmark was acquired from the Chicago Blackhawks at the 2021 trade deadline, and has fit decently well as a bottom-sixer in Vegas. He had some big performances, including a game-seven hat trick against the Minnesota Wild in 2021, but like many Golden Knights struggled with injuries and inconsistent play in 2021-22. Janmark's average time on ice declined from around 17 minutes per game last season to under 14:21 in 2021-22. Janmark cost $2.25MM against the cap this season, and it's fair to wonder if Vegas will be able to pay Janmark that sort of figure next season should they be interested in a reunion. Although it's definitely possible he re-signs, Janmark will probably be able to receive more lucrative offers from other teams compared to what Vegas is in a position to offer.
Other UFA's: D Jake Bischoff, F Gage Quinney
Projected Cap Space
The great lengths the Golden Knights have gone to stay under the salary cap have often made headlines, whether it be through their aggressive use of long-term injured reserve or attempt to trade a highly-paid player to a destination he had previously listed on his no-trade clause. This offseason figures to feature similar challenges for Vegas' front office. The team has been built around a core of high-end, highly-paid veteran players, with Jack Eichel, Alex Pietrangelo, Mark Stone, and Max Pacioretty all commanding salaries at or above the $7MM mark. The Golden Knights enter the offseason with just $200K in cap space, meaning the team will likely need to get creative in order to have enough room to make their desired moves this summer.
The team could pursue a trade involving Evgenii Dadonov as they did in the past, or could choose to make a trade including a contract they can place on long-term injured reserve in order to create cap space, similar to what Tampa Bay's front office did with the Tyler Johnson trade. Either way, they will need to do something, and how the Golden Knights' offseason goes will largely be determined by what route they choose in order to create cap space. Could they trade bigger names such as Dadonov or even a William Karlsson? Or could they work around the margins, moving a player like Laurent Brossoit who, while still a solid backup option, is suboptimal on Vegas' roster since he costs $2.325MM and Logan Thompson is waiting in the wings with a $766k cap hit.
Whatever route the Golden Knights ultimately choose to take, it's their pursuit of cap space that will be the defining theme of their offseason.
Photos courtesy of USA Today Sports Images.  Contract information courtesy of CapFriendly.