We're all very glad to have college football back in our lives. While Week 1 didn't bring the craziness that many weeks of this sport do, we did have some big upsets.
Oregon was the only Top 25 team to go down, and it did to another ranked squad in Auburn. The Tigers and Ducks dueled in one of the most dramatic games of the weekend.
Beyond the rankings, there were some very shocking results. Florida State blew a massive lead to fall to Boise State 36-31, getting shut out in the second half in the process.
Georgia State logged the upset of the weekend, knocking off Tennessee at Neyland Stadium and setting the stage for a rough weekend for the SEC East. South Carolina lost to North Carolina as a double-digit favorite, blowing a 20-9 fourth quarter lead, and Missouri lost in a strange road trip to Wyoming.
After one week of staff picks, there is a five-pick difference between first and last place. Here is how the standings look so far.
1. Matt Hladik: 49-6
2. Dan Lyons: 48-7
T-3. Stephen Driscoll: 47-8
T-3. Tzvi Machlin: 47-8
T-5. Andrew Holleran: 46-9
T-5. Chris Rosvoglou: 46-9
T-7. Andrew McCarty: 45-10
T-7. Alek Arend: 45-10
9. Matt Lombardi: 44-11
Week 2 has a bit more in the way of major match-ups.
No. 1 Clemson hosts No. 12 Texas A&M, while No. 9 Texas vs. No. 6 LSU in Austin gets the College GameDay treatment. There are also other intriguing games, like Stanford at USC, Nebraska at Colorado, Army at Michigan, and Cincinnati at Ohio State.
Here are our picks for College Football Week 2. We have some pretty big splits on Syracuse at Maryland, Vanderbilt at Purdue, Nebraska at Colorado, LSU at Texas, and Minnesota at Fresno State: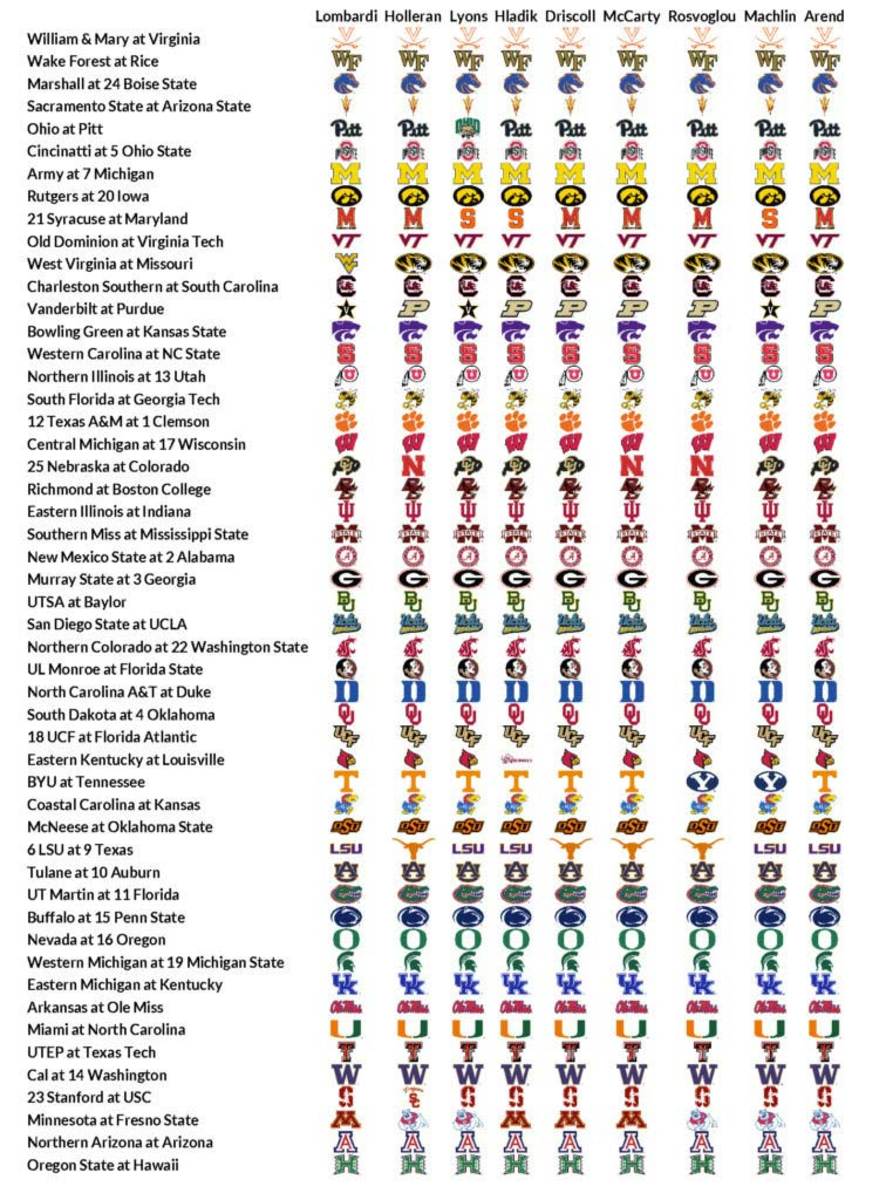 Every week, we pick each game involving Power Five and other Top 25 programs. Check back to see how the contest, which often comes down to the final slate of games, shakes out.
The post The Spun's 2019 College Football Staff Picks: Week 2 appeared first on The Spun.